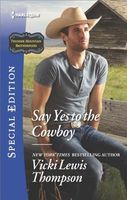 Series:
Thunder Mountain Brotherhood
(Book 10)
From lone wolf to family man
When trick roper Zeke Rafferty sees Tess Irwin standing on his front porch, memories of two unforgettable days -- and nights -- come flooding back. But when the pretty schoolteacher reveals that one plus one will soon equal three, Zeke is stunned. Then he remembers his manners. And asks Tess to marry him.
If you turn down a handsome cowboy's proposal, is it okay to still want to kiss him? Wait, no! Tess doesn't want a husband. Besides, she's holding out for love. A man has a right to know he fathered a child, but beyond that, Tess is raising this child alone. Zeke proved he can make a baby. But can he make the grade as a loving husband and dad?
Good book. Zeke is one of the many boys that was fostered at the Thunder Mountain Ranch. When he's injured during a rodeo, he returns there to recover, where he stays at his foster brother Matt's place. One day he arrives at his foster parents home for a meal to find a former weekend lover waiting for him with shocking news. She's pregnant, and the baby is his. Tess is an elementary school teacher who, at the time of their encounter, was recovering from her divorce. All she had wanted was a weekend of no-strings fun. She also knows she has to at least let Zeke know about the baby, even if he doesn't want to be involved.
I loved both Zeke and Tess, but I hurt for them also. Tess is the only child of very strict parents who weren't particularly loving. When she discovers that she's pregnant, she knows they won't be happy and that she won't be able to count on them for support. She wants this baby and will do everything she can to give him all the love she has in her, even if she has to do it alone. After all, Zeke had been clear on that weekend that he didn't do relationships and never planned to have kids. Zeke came to the ranch at the age of fourteen, older than most of the others when they had come. He had already experienced so much loss, with his mother abandoning him and his father and then his father committing suicide. He has built high walls around his heart, protecting himself from any more loss and pain. He has even kept himself a little apart from his foster family, never quite allowing himself to call them family.
Tess arrived at the ranch ready to tell Zeke about the baby and absolve him of all responsibility. She doesn't want a man who would treat her or the baby as an obligation. Instead, she discovered that, once he was over the shock, he very much wanted to be a hands on father. She isn't quite sure how to deal with the disruption of her plans, or with the intense attraction, she still feels for him. Zeke is stunned at the news, but once he has accepted it, he knows there's only one thing to do - ask Tess to marry him. He's shocked when she turns him down. He does convince her to stay a few days so that they can talk about arrangements.
I really enjoyed the development of their relationship. Both Tess and Zeke had assumptions to overcome, both about each other and themselves. Zeke has always kept himself apart and suddenly finds himself letting people in. I loved seeing him with little Sophie, who had wriggled her way into his heart without him realizing it. Tess had made assumptions about Zeke based on his lifestyle and the things he had said, and now sees an entirely different side of him. I liked how the two of them were able to sit down and discuss issues without too much drama. One of my favorite scenes was the two of them talking about baby names and trying to decide what they liked. Something else they had to deal with was the undeniable attraction that they felt for each other. When they were together, it seemed like anything was possible, but complete trust is still hard to come by.
I loved Zeke's all-in decision about being a father. His panic over some of the things he read in the baby book was pretty amusing. It was great to see the no nonsense way his foster mother helped straighten him out. He was a bit slower on the uptake about his feelings for Tess, having to get past his fears before he could see the truth. I got a little frustrated with Tess and her stubborn adherence to her plans. The way Zeke's family accepted her should have made things so simple, but her own fears held her back. I did understand why she kept turning down his proposals, but her behavior after the last one was rather reckless and put her in danger. I liked Zeke's lightning bolt realization of the truth and his big moment at the end was awesome.
This was the first Thunder Mountain Brotherhood book that I have read, but it won't be the last. I will have to go back and read the earlier books. I loved Rosie and Herb and the obvious love that they have for all their boys. I especially loved Rosie's non-judgmental ways of helping them see where they go wrong. The support that all the brothers show for their parents and each other is heartwarming. I especially loved the part where Damon talks to Zeke about the Brotherhood, which blew a pretty big hole in the walls around Zeke's heart. I can't wait to see what's ahead for the next brother, Austin.