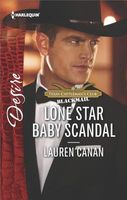 Series:
Texas Cattleman's Club: Blackmail
(Book 7)
One night changes everything…
It's bad enough that straitlaced Sophie Prescott fell for her boss Clay Everett's charms the night of Royal's masked ball -- now she's pregnant with his baby! Too bad the former rodeo star turned billionaire entrepreneur's emotional defenses are impenetrable and Sophie doesn't stand a chance of breaking through. So where does that leave her? And with a blackmailer hounding the town's A-list, is their secret the next to be revealed? Or is an even bigger surprise in store -- that maybe, just maybe, Sophie has discovered the chink in Clay's armor…?
Good entry in the Blackmail series. Sophie has been the secretary/personal assistant for Clay for more than five years, since before the accident that wrecked his rodeo career and has had a crush on him the entire time. The story opens at the TCC masquerade ball, where Clay convinces Sophie to dance with him. The sparks between them are incendiary, and Sophie finds herself in his arms and in his bed that night. But she also knows that nothing can come of it, and to try to protect her heart she refuses to give in again.
Both Clay and Sophie have things from their pasts that have made them wary of relationships. Sophie was involved in an incident as a teen that resulted in the death of a man, and she has never forgiven herself. She wants a husband and family, but she's not so sure that she deserves it. Clay was engaged to a woman who dumped him after his accident, making him believe that he's not cut out for relationships. Instead, he devotes himself to his business, with the occasional no-strings encounter.
I enjoyed the development of their relationship. They have been friends since he hired her. When he had his accident, she was the one who stood by him, alternately encouraging him and bullying him into working toward his recovery. What she doesn't know is that he's been attracted to her also. When they give in to the attraction the night of the ball, Sophie is determined not to give in again, and Clay is equally determined to get her back in his bed. That determination succeeds occasionally, but Sophie always puts her walls back up. When she discovers that she is pregnant, she doesn't know what to do. She knows she has to tell him, but he's made it clear he isn't the settling down type. She doesn't want an offer of marriage from obligation. Clay is drawn to Sophie in ways he hasn't been to any other woman. He's a little freaked out by the depth of his need for her. I really liked how their feelings showed in their support of each other. Not only was Sophie there for Clay during his recovery, but she is also right there with him during his business troubles, and not just because it's part of her job. I loved her sensitivity to his moods and how she tried to make things better for him. I also liked how Clay tried not to push too hard when Sophie would withdraw from him, even though he wanted to. I also liked what he did for her father, without telling her about it. Though they hit a rough patch when Sophie finally tells him about the baby, Clay does see the light and go after her. She just needs to get over the hurdle of her past to believe that she can have the future she wants. I liked his big moment at the end, as he is finally able to lower his own walls and take a risk on telling her how he feels.

At the same time this is going on, someone is doing his best to destroy Clay's business. Rumors have been spreading that his company has had major data breaches and customers are leaving. I loved seeing Clay and Sophie working together to do damage control. Clay's efforts reveal that someone named "Maverick" is behind the troubles, the same name that has been causing problems for other residents of Royal. Clay's frustration is obvious as is his determination to find out who it is. I liked how he got the other business owners together to compare notes and the support that they offered him. I am more and more curious about who this Maverick person is and what his problem is.
The only issue I had with the book was that the editor/proofreader did a terrible job. Sometimes the hero's name was Clay, sometimes it was Cole, which could be very confusing and would pull me out of the story. There were also several instances of the wrong word being used, which would do the same thing.