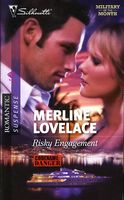 Series:
Code Name: Danger
(Book 15)
Secret Service Agent: Rafe Blackstone
Codename: Wolf
Mission: Prevent breaches in U.S. government security by any means necessary. Bring down Sebastian Cordell, international thief suspected of selling top-secret technology to the highest bidder.
Method: Zero in on target in Cabo San Lucas, Mexico -- and persuade sexy, brilliant medical researcher Dr. Nina Grant to help secure his undercover identity...as her fiancé.
Obstacle: It's too easy to be "engaged" to Nina. Despite the dangerous circumstances of their alliance, the peril excites her. The intrigue is powerful -- the attraction sizzling between them, unstoppable. In the end he must choose: keep Nina safe by walking out of her life, or be her only protector...forever.
Good entry in the Code Name: Danger series. Rafe is on the trail of an international thief with some stolen information when he encounters Dr. Nina Grant. Nina is on a forced vacation after her staff threatened to mutiny if she didn't take some time off. She meets Sebastian Cordell when her car breaks down, and Rafe is quick to use that chance meeting for his own purposes.
The book starts with a tension filled scene and the intensity never really lets up throughout the entire book. We are dropped right in the middle of the op, as Rafe and company are watching Cordell. He is suspicious of Nina's arrival on the scene even after it appears to check out as innocent. Thanks to who she is and what she does, he feels that she would be the perfect accomplice to help him get closer to Cordell.
I liked the initial meeting between Rafe and Nina. There are sparks between them from the beginning, and Nina briefly contemplates the idea of a vacation fling. That is until Rafe blackmails her into helping him with his mission. Though it makes her angry, it doesn't do much to reduce the attraction. Once she hears the reasons that Rafe needs her help, she is all-in for doing whatever she can, including having Rafe pose as her former fiancé.
I enjoyed the development of their relationship. Rafe is a loner who has avoided ties and entanglements throughout his career. He is attracted to Nina more than any other woman he's known. He knows he should keep it professional, but his body and heart have other ideas. When the need arises to make their relationship look even more genuine, he has no trouble doing so. He is surprised by the depth of the protectiveness he feels for her, and the way his mind and heart tell him he wants to keep her in his life. Nina is drawn to the strong and sexy Rafe, but wary also. She recently ended her engagement when she discovered her fiancé stealing proprietary information from her computer. She's not sure how much to trust Rafe or her growing feelings for him. But the intensity of their situation and the danger they are in makes them realize just what they have. It was pretty sweet to see the tough guy have a little trouble expressing his feelings at the end, but he did manage quite nicely.
The suspense of the story was good. Rafe needed to find Cordell and stop him before he could sell the information to the highest bidder. Cordell is smart and slippery which is why he hasn't yet been caught. His interest in Nina was because of her business and what he could do with it. Rafe's determination to succeed caused him to go a little overboard in his methods of recruiting Nina, but she eventually understood why he did it. I was impressed with the way that Nina handled herself throughout the whole thing. Though she started out unwillingly, by the end, she was quite coolheaded. The danger to Nina increased as the sale time grew closer. The final confrontation was very intense. I loved that it was Nina who figured out where the disc was and saved the day.