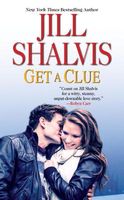 And you think you've had a bad day?
City girl Breanne Mooreland gets left at the altar, takes the flight from hell to her honeymoon--alone--loses her luggage, and ends up snowed in at a Sierra mountains lodge run by the kookiest staff this side of the Addams Family. Oh, and there's a gorgeous naked man taking a shower in her suite who says he isn't going anywhere. That's just the first 24 hours...
Burned-out vice cop Cooper Scott is in serious need of this vacation, and he's not about to give up the only available room because an upset--okay, make that insane--woman is having a conniption fit. They'll just have to make the best of it--her side of the bed versus his. But when Cooper wakes up kissing the long, leggy Breanne, he wants to show her exactly what the honeymoon suite is intended for. But that will have to wait, because a screaming Breanne has just stumbled on a very dead body. So much for vacation...
Fun book. Breanne has had a really bad day. She got left at the altar for the third time and decided her only option was to escape by going on her pre-paid honeymoon alone. A turbulent flight with unpleasant seatmates and lost luggage just adds to the stress. She arrives at her destination in the midst of the blizzard of the century to discover that there is a sexy man taking a shower in her room and claiming that it's his room.
Cooper is a vice cop who has reached the end of his rope. His plan for this vacation is to eat, sleep, and maybe find a couple of snow bunnies to spend some time with. The last thing he needs is a crazy woman claiming the room is hers. But he's willing to share the room...
I loved the first meeting between Breanne and Cooper. Him all wet and soapy in the shower, giving Breanne quite an eyeful, and her wielding the only weapon she could find - a bright pink, glow in the dark vibrator. There are sparks between them right away, but both are determined to resist. Cooper is not relationship material. He feels that his job and the effect it has on him is death to anything lasting. Breanne has sworn off men after her latest disaster. But while the minds are saying no, the bodies and hearts have different ideas. A platonic sharing of the bed turns into a hot make-out session before either is really awake, setting the scene for what's to come.
Things go from bad to worse when Breanne discovers a dead body. The weather being what it is, the murderer has to be someone currently in the house. But who? Shelly, the sweet and petite cook? Or Dante, the butler who looks like a street thug? Maybe Lariana, the knockout maid or Patrick, the inept handyman? The storm knocks out the power, and as Breanne and Cooper look for clues, things just don't seem to add up.
I liked Breanne and Cooper, though I will admit that Breanne had her truly flaky moments. One moment she seemed to be holding up well, and the next she was panicking in the dark. Her attraction to Cooper was strong, but she was really stubborn about her no new men rule. Her internal conversations were pretty funny as she would remind herself to stay away from him, even when she was in his arms. Cooper was pretty terrific. His burn out was real, but when the body was found, his inner cop stepped up. I loved his determination to protect Breanne, even when she was driving him nuts. I liked the development of their relationship. Cooper accepted what was happening much faster than Breanne did. He wanted to see where it would lead and sometimes got frustrated by Breanne's pulling away. Breanne is freaked out by the way Cooper makes her feel. She isn't sure how to deal with it, so she tries pushing him away by claiming what they have is just sex. I liked how Cooper finally confronted her about it and told her how he felt. Her epiphany takes a little longer but is quite satisfying when it comes.

The mystery of the dead body is both simple and complex. Each of the staff members has both means and motive, but none of them really seem the type to commit murder. There are some pretty funny moments as both Breanne and Cooper look for clues and get caught in some awkward situations. The resolution came with an unexpected twist that was heartwarming and heartwrenching at the same time.