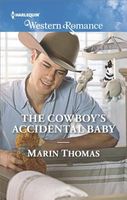 Series:
Cowboys of Stampede Texas
(Book 1)
FROM PLAYBOY COWBOY TO…DADDY?
Bronc rider Gunner Hardell never plans past the next stop on the rodeo. When he's home in Stampede, Texas, he's part-time manager of the run-down Moonlight Motel, to get his crotchety grandpa off his back. Then he meets interior designer Lydia Canter -- hired to renovate the motel -- and suddenly the gig gets a whole lot more appealing…
Lydia is looking for love, but there's nothing wrong with some Mr. Right Now while she waits for Mr. Right. But one steamy night with Gunner has unexpected consequences. And she would rather raise their baby alone than give the good-time cowboy a chance to break her heart. When Gunner learns he's going to be a daddy, he's determined to prove to Lydia he really is her Mr. Right!
Good book. Gunner is a rodeo bronc rider who enjoys his laid-back lifestyle. He participates in some rodeos, enjoys the attentions of the buckle bunnies, and moves on. Commitment is not a word that exists in his vocabulary and doesn't see himself ever settling down. He is loyal to his family, however, even though they are constantly on his case about his lack of ambition. When he isn't rodeoing, he is the part-time manager of his grandfather's Moonlight Motel. It doesn't get much business, but that's alright with him.
Lydia Canter is an interior designer. Her Aunt Amelia owns the mortgage on the motel and is determined to force the owner into renovating. Amelia hires Lydia to do the renovations. Lydia is okay with spending a couple weeks in Stampede to get things going, but she wants to get back to her life in Wisconsin. She has seen her friends settling down and she's ready to find her own Mr. Right. She has very specific ideas on what she's looking for and has signed up on several dating sites to find it. Motel manager and cowboy Gunner doesn't meet any of those requirements, but he does light off some sparks in her.
I enjoyed the development of their relationship. Gunner is Lydia's help in doing the renovation. She doesn't consider him very reliable, since he keeps taking off to do rodeos or other fun activities. Gunner thinks Lydia is a bit uptight and too work focused, and is determined to get her to have some fun. Neither of them expect the attraction that flares between them, but they're willing to indulge in a summer fling.
But when the stick turns blue, both of them have some decisions to make. Lydia is quite prepared to raise the baby on her own. Though Gunner has proposed, she knows he doesn't love her, and marriage without love is not an option for her. Gunner has never pictured himself as a father, but the thought of walking away doesn't sit right either. If he's going to be a part of his baby's life, he's going to have to convince Lydia that he's up to the job. And to do that, he has to show her that she needs more than a 9 to 5 stuffed shirt.
I loved seeing Gunner add some fun to Lydia's life. He has no problem distracting her from her business first mindset, whether it's taking her to a rodeo or luring her back to bed. But when he finds out about the baby, a whole new side of him comes out. I loved all the little things he did for her, from the special water to the scented air. I also loved seeing him get serious about the renovations, put his rodeo trips aside, and discover that he really wants to be part of Lydia's life. There's a lot more to Gunner than the image he portrays. I especially loved seeing him with the various kids he encountered. I enjoyed seeing Lydia start comparing all her potential dates to Gunner and have them not measure up. She was surprised to discover that the man who didn't match any of her requirements was the only one she wanted to be with. She's stunned to realize that she's fallen in love with him, knowing that he doesn't return the feelings.
When she runs from those feelings, back to the safety of Wisconsin, she has to decide if she wants to risk her heart with him. I loved Gunner's big moment, as he finally makes that last step into adulthood and realizes the truth of his feelings for Lydia. I loved watching him put his heart on the line and risk it all.
I also enjoyed the secondary characters. Gunner's grandfather and Lydia's Aunt Amelia are especially fun with their bickering. It quickly becomes obvious that there is more between them than antagonism and I loved seeing them play each other. They also appeared to be conspiring to get Gunner and Lydia together. I am looking forward to seeing more of them in the next book. There was also a little bit of exposure to Gunner's brother Logan. He comes across as pretty judgmental of Gunner at the beginning, but lightens up a bit toward the end. He does have some pretty good advice for Gunner, so there is hope for him. There's another brother that's only mentioned in passing. Lydia has two cousins that she is close to and I liked meeting them. I liked their support of her when she needs it and the memories they shared of their visits to Stampede. I suspect they'll be back in Stampede soon, too.