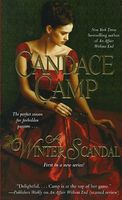 Series:
Legend of St. Dwynwen
(Book 1)
When plain and proper Thea Bainbridge stumbles upon a baby in the manger of her church's nativity, she is understandably shocked. Discovering a brooch bearing the insignia of Gabriel, Lord Morecombe, hidden among the child's clothing, she is certain the dissolute rake is to blame. Incensed, Thea sets out to reproach the arrogant lord -- only to find herself utterly swept away.
Gabriel is intrigued by the vivacity in Thea's flashing gray eyes when she accuses him of fathering the orphan, even as he adamantly maintains his innocence. The brooch is one he remembers all too well, however, and Gabriel is determined to find the mother of the missing child. As the mystery around the baby deepens, Gabriel is continually thrown together with Thea -- and finds himself growing more entranced every day.
Even with whispers of winter scandal swirling around them, they cannot deny the longing in their hearts. A longing which promises the best gift of all: a shelter from the storm . . . in each other's arms.
Good book. Thea is the sister of the village vicar, twenty-seven and considered firmly "on the shelf". She considers herself to be quite plain and tries to convince herself that she is content with her quiet life and assisting her brother. But after a local ball, where she encounters a man from her past, she realizes that she really wants a chance at a life and love of her own. When she discovers a baby abandoned in the manger of the church nativity scene, a brooch hidden in the child's clothing convinces her she knows who is responsible. Furious, she rushes off to confront the town's newest resident.
Gabriel recently purchased the manor house and has brought a few friends to stay for the holidays. He attended the local ball, barely noticing the various women he was introduced to. He is shocked when one of those women bursts into his home, accusing him of fathering the abandoned baby. Though he knows he's innocent of the charge, he does recognize the brooch as belonging to his sister, and is determined to find her.
I loved that confrontation between Thea and Gabriel. She's so certain that she's right, that he's the typical rakish nobleman, and she's going to set him straight about his actions. He's simply stunned by her accusations, then in shock when he sees the brooch. With his reactions, he comes across as cold and arrogant, but once they both calm down they realize they want the same thing - to find the baby's mother. It also becomes obvious that there is something more flaring between them. Gabriel is intrigued by the woman who doesn't behave like the ones he's used to. She's forthright, smart, loving toward little Matthew, and not afraid to stand up to him. I loved the banter between them. He's very good a teasing her because he loves her reactions. I also enjoyed seeing Thea's attempts to rein him in.
As they are thrown together in their search for Gabriel's sister, they develop a friendship that quickly grows into more. There is no denying the attraction that flares between them. Thea's normally quick wits have a tendency to get scrambled when Gabriel gets too close, and he has a hard time not kissing her at every opportunity. That attraction continues to grow until it bursts into flame and they succumb to their desire. It's pretty obvious that there's more than just passion between them, but neither one can see it. Gabriel's mind is fixated on the fact that his plans aren't to marry for several years yet, so marriage to Thea never occurs to him (in spite of what they have been doing). Thea is simply trying not to let her emotions get involved, because she doesn't believe a nobleman like him would be interested in a plain jane girl like her for anything other than a short liaison. I liked seeing the changes that both go through, as Gabriel's attentions have Thea breaking out of the shell she'd been in for so long. I also liked seeing Gabriel open up to Thea about what had happened with his sister, and how she helps him see that he's not to blame. I did wonder how long it was going to take him to realize the truth of his feelings for Thea, but he came through in a really sweet way at the end.
The mystery of baby Matthew and his mother was well done. There were so few clues at the beginning that it built the intensity just a bit, until things started to come together. From the kidnapping on, I was constantly wondering what was going to happen next. Just when I thought I knew who to blame, a sudden twist threw it all into doubt. The revelation of the truth was exciting and bittersweet, as the final confrontation revealed an unexpected player.
The secondary characters were great and I'm looking forward to seeing more of them in the other books. I am especially intrigued by Thea's friend Damaris, who I suspect has a very interesting history. Lord Rawdon is another who made a big impression. He seems so cold at first, and his history with Gabriel is complicated. I loved the fight scene between them, and Thea's way of dealing with it. I also liked Myles, who had a good head on his shoulders and was the voice of reason throughout. But my favorite was baby Matthew. It was so much fun to see everyone's reactions to him. He was such a little sweetheart and had everyone charmed. There were some really sweet scenes with him and Thea and Gabriel.