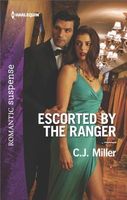 A chilling murder sparks a red-hot runway romance…
After working her way to the top of the modeling world, Marissa Walker finds her dream turning into a nightmare. Her best friend is murdered before her turn on the runway! Is killing models suddenly in style? Now a deadly hitman is targeting Marissa…even as she becomes a suspect in her friend's death.
Enter Jack Larson, army ranger turned bodyguard. Jack's mission: protect a supermodel while attempting to resist the flesh-and-blood woman behind the stunning face. He's been burned in love before, as has Marissa, but when the hunt for a killer leads them into a world of glamour and danger, they'll put everything on the line for love -- and their lives!
Good book. Marissa is a supermodel, at the top of career. During a live fashion show her former best friend is murdered. Worried about Marissa's safety, her sister Kit (
Delta Force Desire
) asks fellow West Company employee, Jack, to serve as Marissa's bodyguard until the killer is caught. Jack is currently on medical leave after being injured on his last mission. Marissa isn't all that thrilled about having a 24/7 bodyguard. She has security that goes with her when she's out, but she prefers her privacy at home. That changes when she is attacked in her own home, and only saved because Jack was there.
I liked Marissa. She may be incredibly beautiful and famous, but she's a nice person. She doesn't go all diva on people and she looks out for her friends. She's attracted to Jack, but she's been through that before. She's already been married and divorced twice, and no longer trusts herself when it comes to men. She's looking seriously at moving on from modelling because she feels that she is missing out on too much of life.
I liked Jack, too. He's good at what he does and doesn't let things distract him. He's been burned in love before, by a woman who had fame on her mind rather than her feelings for him. Plus, he's still recovering from the betrayal of his partner on his last mission. He's been spending time on his family's farm while on leave, and looking forward to the time when he retires and becomes a farmer for real.
I loved watching their relationship develop. Marissa is attracted and fascinated by him, especially by the fact that he seems unaffected by her looks. She believes that he doesn't like her. To the contrary, he is bowled over by her beauty, but doesn't want to look like it, so he remains aloof, and believes that she's certain to be self-centered. It doesn't take him long to realize that her inside is even more beautiful than her outside. They give in to the attraction, though Jack tries to fight it, feeling that he can't protect her properly if he does. I loved how sensitive each of them was to the other's problems. I especially loved seeing Marissa's support of Jack during his inquiry and how she was ready for as little or as much as he wanted to talk about. Their feelings for each other grew, and each reacted differently thanks to their pasts. Marissa isn't sure if she can trust herself to know if it's really love. Jack isn't sure if Marissa would want the same things that he does. Each has their moment of clarity and I liked seeing how they came together in the end.
The suspense of the story was good. I liked the background of the fashion industry, it seemed pretty ripe for the kind of trouble this was. The murder of Avery, with the almost immediate attack on Marissa had everyone on edge, wondering who had done it and why. The intensity increased with the shooting at the photo shoot, and later what happened at the auction. I had several possibilities in mind for the killer and it was interesting to see who it ended up being and why. The final confrontation was certainly an unusual kind of attack.