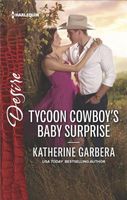 Series:
Wild Caruthers Bachelors
(Book 1)
It only takes one night in Vegas…
Wedding planner Kinley Quinten's luck runs out when her job brings her back to Texas -- and face-to-face with her child's father, rancher Nate Caruthers. The passion that got them in trouble during a one-night stand three years ago is still there, too strong to deny.
Nate can't help it: Kinley gets under his skin. But what happened in Vegas really needs to stay there. Too bad that cliché only gets him so far as he falls for the woman whose baby secret will change everything!
Very good book with two very strong-willed characters. Kinley and Nate had grown up together on the Rockin' C ranch. Nate is the ranch owner's son, and Kinley the daughter of the ranch foreman. Though there were a few years difference in their ages, Nate had always been nice to Kinley and she grew up with quite a crush on him. When they met again in Las Vegas after she graduated from college, they had a hot and heavy weekend together, then parted ways, planning to leave it there. That is, until Kinley discovered she was pregnant and tried to contact him. When she called, Nate blew her off before she could even tell him her news, so she stayed in Las Vegas, got a job and tried to forget about him. Then Kinley's boss sends her back to her hometown as wedding planner for Nate's brother Hunter. The attraction that burned so hot between Nate and Kinley was still as strong as ever. Neither had ever forgotten what they shared, and when Nate runs into Kinley again he is very interested in picking up where they left off.
I liked both Kinley and Nate, though there were times I wanted to smack them both. Three years earlier, both had been party animals, just looking for a good time. But when she got pregnant, Kinley had to grow up fast. She had an amazing amount of strength and determination that got her where she is today. But she also has some insecurities and regrets. She hadn't felt that she was enough to make Nate want to give up his playboy ways, but she has come to regret that she didn't make more of an effort to tell Nate about Penny. But she's also nervous about telling him, afraid of what his reaction might be. Nate is quite the ladies' man. He has no interest in settling down and makes sure the women he's involved with know it. That weekend with Kinley left him feeling a bit guilty, torn between his respect for her father and the attraction he felt for her. Then, once he finds out about Penny, his emotions swing between anger at Kinley and joy at having a daughter.
The development of their relationship was fast and furious. From the moment they met again their chemistry between them was off the charts. It was very easy to fall back into bed together, but Kinley knew she needed to come clean with Nate. Problem was, every time she tried to talk to him, he would distract her. The first time she tried to tell him she was too subtle about it and the information went right over his clueless head. But he did realize that what he felt for her was more than what he'd felt for any other woman, and that he'd need to get to know her child too. There was an amusing scene where he's asking advice from his friends about how to treat kids. He listens well, and his evening with Kinley and Penny is great. It was really sweet to see the way he and Penny connected.
His reaction to her news is everything she feared, and she has to find a way to calm his anger so they can work together. There is also the problem of dealing with their families, who have expectations about what they should do, but Kinley doesn't want to marry without love. I loved Kinley's father's reaction, as Nate certainly deserved it. But when a medical crisis brings the confrontation to a sudden end, Nate suddenly realizes just how much Kinley has had to deal with alone. I loved seeing the changes that he went through as the playboy finally grew up. All he needed to do was find a way to show her that they belonged together as a family. He came through in a truly sweet and romantic way.
I enjoyed the secondary characters also. Nate's family was great, and I enjoyed seeing the planning for Hunter and Ferrin's wedding. His brother Derek was interesting, too, extremely intelligent and very sensitive. I'm looking forward to his story. I loved little Penny, who was so much fun with her horse crazy antics and easy acceptance of Nate. The character who fascinated me the most was Kinley's nanny Pippa. I'd love to see more of her and her story.