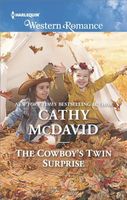 Series:
Mustang Valley
(Book 10)
DAD ON THE DOUBLE
Frankie Hartman never thought she'd see Spence Bohanan again. Not after he broke her heart and walked away before she could tell the wandering cowboy about his twin daughters. Now that he's back in Mustang Valley, Frankie has to reveal the truth. At least about his kids -- Spence can never find out that she still secretly aches for him.
Spence finally has his life together and he's ready to prove himself to the only woman he's ever loved, but her revelation shakes everything up. It doesn't take long for him to fall in love with his little girls, but repairing the trust between him and Frankie won't happen quite so quickly. Spence is ready to be a family man -- will Frankie give him a chance?
Good second chance story. Frankie is the single mother of twin girls. She has raised them on her own, after the man she loved left town before she could tell him she was pregnant. She never wanted to trap him into marriage, so she hadn't made any effort to find him. Now he is back in town and she has to tell him the truth. Spence spent years hopping from job to job, looking for something he couldn't name. He finally found it and has come home to Mustang Valley to win back the woman he's always loved. What he finds shakes him to the core.
I really liked Spence. He owned up to his mistakes of the past and has made big changes in his life. He shows up at the café where Frankie works, ready to pick up where they left off. He knows he has to make amends for his past actions, but he's a little shaken by the depth of animosity that she exhibits. When she breaks the news that he's a father, he is stunned and angry, but determined to step up and be the best father he can be. His anger is understandable, but he does get over it pretty quickly. I loved how quickly he connected with his little girls. There are some really sweet scenes between them as they get to know each other. He is also determined to show Frankie that he is back to stay and that she can depend on him.
I liked Frankie too, but she also frustrated me. I loved that her girls were her main priority in her life, and everything she did was with their benefit in mind. I ached for her when her hopes at the café were dashed and thought that she handled it well. Spence's return threw her into turmoil as she knew she had to tell him about the girls. She was afraid of what his reaction would be. She was also wary of letting him into their lives, afraid of what would happen if he left again.
The more that Spence got involved in their lives, the more that he wanted. His feelings for Frankie had never died and now he wants it all. He tries so hard to show Frankie that he has changed, but often feels that he is fighting an uphill battle. Frankie wants to believe in the new Spence, but she'd been hurt too many times before. I loved seeing Spence helping with the girls, assisting with her catering business, and making commitments to the community. Everything he does shows his new maturity. He makes a few mistakes along the way, but his intentions are always good, and he admits when he screws up. Frankie frustrated me in places because she would let Spence get closer, then freak out and push him away. She seemed to be constantly watching him for indications that he was going to leave again and totally ignore the things that showed he was going to stay. The attraction that had always been there between them continues to grow and is part of what brings them closer. Everything looks promising until a combination of bad luck and bad decisions causes Spence to let Frankie down. Though he tries to fix it, Frankie's reaction is extreme, and harsh words are exchanged. I ached for Spence because he had tried so hard, and I wanted to shake Frankie for being so hard on him. I loved seeing her finally take a long and honest look at her own behavior and realize what she had been doing. I loved her big moment at the end.