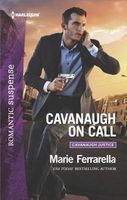 Series:
Cavanaugh Justice
(Book 34)
Detective Bryce Cavanaugh already has one tough investigation -- an elusive home-invasion team on a dangerous crime spree. And his enigmatic fellow cop Alexandra "Scottie" Scott keeps throwing him curves. She's relentless at taking charge -- and running down leads. But getting the stunning blonde to reveal her secrets is a challenge Bryce just can't resist.
Scottie prefers to solve cases and save those close to her on her own. Keeping one step ahead of Bryce's hardheaded persistence is difficult enough. But tension-filled nights and high-adrenaline days are only fueling the passion between them and putting an inescapable target on their backs!
Very good book. Scottie transferred from Homicide to Robbery when she became convinced that her missing half-brother is involved in the series of robberies that were happening. Known in the department for preferring to work alone, she's not too happy to be paired with Bryce. Working alone would give her the chance to find Ethan without interference from the sharp-eyed detective, but he won't cooperate. Bryce is intrigued by his new partner. She's beautiful, but she's also the prickliest and most solitary cop he's ever known. He's determined to break down her walls.
I loved both Scottie and Bryce. They were so different, but in the end, so right for each other. Scottie had had a miserable childhood, one that has created a bone deep independence and a wariness of getting too close to anyone. She is also fiercely loyal to her only remaining family member. I loved her faith in Ethan and her certainty that if he's involved in the robberies, it's not by choice. Bryce is a Cavanaugh. His childhood was one of a normal, happy family. He's easygoing and open, secure in the love and support of his family. I loved his humor and patience.
I enjoyed the development of their relationship. Bryce was intrigued from the moment he met Scottie. Her beauty snagged his attention, but her attitude was a challenge he couldn't resist. I loved his teasing attempts to get her to open up and his realization that there was something deeper driving her determination to solve the case. Scottie was not happy when she realized that Bryce was stirring up feelings in her that she didn't want. She was determined to not to give in, but she really didn't stand a chance. I loved their banter as Bryce pushed and Scottie resisted. It was a bit heartbreaking to see her reaction to the close family ties she saw in the Cavanaughs. I loved her take-charge attitude during the baby episode. I loved her subsequent invitation to one of Andrew's get-togethers and Bryce's determination to keep her from missing it. I always love seeing outsiders' reactions to those events. Bryce's persistence pays off, and I loved the changes in Scottie as she begins to believe in him. There's a little bump in the road when she finally opens up about Ethan, but they get past that pretty quickly and become an even stronger team. Both of them are a bit wary of expressing their feelings until a dangerous situation shows them that life can be short. I loved the ending, with both showing a little vulnerability and their love shining through it.
The suspense of the story was good too. Scottie's worry about her brother and his possible involvement laid the groundwork for the question of did he or didn't he? As the search goes on, it looks more and more like Ethan is involved. Scottie's withholding of information adds some stress to the search, as Bryce senses that there is something more going on. Scottie's intense desire to find the truth helps move the case along, and finally telling Bryce the truth strengthens their teamwork. I loved how the clues started coming together. The final confrontation was intense, and I was on the edge of my seat until it was over. As always, Cavanaughs have each other's' backs.
As always, other Cavanaughs are present in the story in some way. I loved how the family teasing was such an eye opener for Scottie when she was coerced into going to Malone's with Bryce. The baby delivery scene was funny as was the hospital scene afterwards. I always love the nurses' reactions to Cavanaugh invasions. Andrew and his parties are a staple of the books, as is his way of seeing to the heart of those who attend. I always look forward to appearances of previous characters and this was no exception. I can't wait to see who is next.