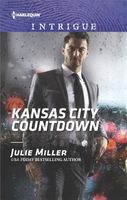 Series:
Precinct: Bachelors in Blue
(Book 2)
A seventy-two-hour countdown to save her life
They may have battled in the courtroom, but KCPD detective Keir Watson isn't going to let their turbulent past stop him from protecting attorney Kenna Parker. She was attacked, escaping with her life but with no memory of who wanted to end it. And the only person she dares trust is Keir.
With the clock ticking, every second grows more precious, each action more important…their feelings more intense. If Keir is going to discover Kenna's would-be killer, he has to keep his mind on the case. But his attraction to Kenna is making this self-declared bachelor reconsider just what his idea of forever could mean.
Excellent second book in this series. It opens the same way as the previous book,
APB: Baby
, with the shooting at Gabe and Olivia's wedding. This time we see it through Keir's eyes. It then jumps a few months forward to Keir and his partner, Hud, commiserating over a beer, after losing one of their cases in court. Keir is ticked because the defense attorney shredded his case, implying that Keir's police work was sloppy. He doesn't have very good things to say about "The Terminator" as she is called. After leaving the bar, he's stunned to find her staggering out of an alley, beaten and cut, and all but incoherent. First and foremost a cop, he is determined to protect her and find her assailant.
When Kenna leaves that alley, she has no idea how she got there, or even who she is. All she knows is that she feels she can trust the blue-eyed cop. Somewhere in the gaping hole of her memory is the feeling that she knows who did it and that he'll be back to finish the job. With Keir, she feels safe and protected.
I enjoyed the progression of their relationship. Keir is a bit wary at first, expecting Kenna to be the same shark he has encountered in the courtroom. Instead, he found a woman who, though still stubborn and determined, is also kind, compassionate, and unexpectedly sexy. I loved seeing his professional protectiveness quickly turn more personal. I loved how Kenna trusted Keir so much. Her occasional moments of panic when he was out of her sight were understandable under the circumstances, but once those passed her trust remained. In each other's company 24/7 for several days gave them the opportunity to get to know each other rapidly and deeply. I loved how circumstances had them seeing each other differently than before her attack. It was especially fun to see Keir look at "The Terminator" and her treatment of him in court from a less emotional point of view. I also enjoyed seeing Kenna look at her own life and actions in a new light and start to think about changes to make. Making it through the attack at the end showed them both how much they had already begun to care, and cemented their determination to see where it would go. I hope to see them in the following books.
The suspense of the story was terrific from the beginning. From the moment Keir found Kenna coming out of that alley, the intensity kept building. There were several suspects that were immediately obvious, plus possibilities stemming from cases she had participated in. Her creepy coworker went on my suspect list right away, as I felt he had the means and motive, but then there were others that seemed just as likely. It wasn't until the end that the truth was revealed, in a confrontation that had me on the edge of my seat until I got through it.
Besides the prologue, there was also some attention paid to the search for the wedding shooter. In their hunt for clues about the attack on Kenna, she found something that appears to have a connection to that shooter. In the epilogue, we get more from the point of view of the man behind that attack. I'm really looking forward to getting more of this story.