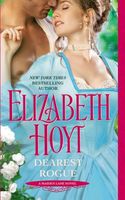 Series:
Maiden Lane
(Book 8)
HE CAN GUARD HER
Lady Phoebe Batten is pretty, vivacious, and yearning for a social life befitting the sister of a powerful duke. But because she is almost completely blind, her overprotective brother insists that she have an armed bodyguard by her side at all times-the very irritating Captain Trevillion.
FROM EVERY DANGER
Captain James Trevillion is proud, brooding, and cursed with a leg injury from his service in the King's dragoons. Yet he can still shoot and ride like the devil, so watching over the distracting Lady Phoebe should be no problem at all-until she's targeted by kidnappers.
BUT PASSION ITSELF
Caught in a deadly web of deceit, James must risk life and limb to save his charge from the lowest of cads-one who would force Lady Phoebe into a loveless marriage. But while they're confined to close quarters for her safekeeping, Phoebe begins to see the tender man beneath the soldier's hard exterior . . . and the possibility of a life-and love-she never imagined possible.
Very good book. I was hooked from the beginning and had trouble putting the book down. It started with a bang, as an attempt is made to kidnap Phoebe. James is there to save her and get her home safely.
Phoebe is young, pretty and wants to experience the same things as others her age. But she is also blind, and her overprotective brother keeps her pretty isolated. Her frustration is obvious in her attempts to elude his control. There is a terrific scene where she blows up at him and lets him know just what she thinks of her treatment. In the time since James has become her bodyguard, he has borne the brunt of that frustration. She has had no trouble letting him know that she doesn't appreciate his presence.
James is a former officer of the dragoons who was injured on duty. After leaving the service, he took a job as Phoebe's bodyguard. He is determined to keep her safe, even more so after the kidnapping attempts begin.
I loved the relationship between them from the beginning. Phoebe can be a bit snarky at times, reacting to the limits placed on her activities. James is quite good at keeping his cool and not reacting to her little jabs. In the six months that he has been her guard, Phoebe never really noticed him much as anything but her guard, until the attempt to kidnap her. At that point, she started to see him as a man. His strength, his protectiveness, and, since she couldn't see him, his scent and his voice suddenly affected her in ways it hadn't before. James had felt an attraction to her from the beginning, but resisted.
I loved Phoebe's sudden interest in learning all about him, and her persistence in pursuing her questions. She didn't let anything stop her in her quest. This made it even harder for James to resist her. It all came to a head one day when, in her frustration with him, she kissed him. She was stunned by the way it made her feel. Though attracted to her, James knows that she's far above him, it doesn't stop him from kissing her back. When a second attempt on her occurs, James takes matters into his own hands and spirits her away.
I loved their journey out of London. Phoebe is amazingly resilient and doesn't let the circumstances keep her from her own goal of getting to know him better. I loved seeing James start to unbend a little and show her the man underneath the bodyguard exterior. James also begins to see Phoebe's need for independence and tries to dial back his need to protect her from everything. Though he knows their stations dictate that there can be nothing between them, when Phoebe makes her own feelings clear he doesn't try to push her away. I loved how he treated her as an adult who knows her own mind. I loved seeing them take the next step, with her enthusiasm and his desire to make her happy, creating some pretty intense scenes. Upon their return to London, I loved seeing both James and Phoebe confound her brother with their intentions. The scene where Max comes to see James is especially fun.
There are a couple of things going on during the book. Foremost is the kidnapping attempts on Phoebe and trying to find out who is behind them and why. There are hints of who it might be, but enough doubt caused by other happenings, that it is hard to be sure until the very end. I loved how James had a better idea of the danger than Max did, and how he was proved right. The final confrontation was intense, and I loved James's reaction when he found Phoebe.
There was also a smaller side story of the reason James had left home all those years ago. I loved how Phoebe got him to share with her. Getting to know the people involved was great. There was a very tense moment when James's past made a reappearance, but it ended with a surprise twist.
This is the first of the Maiden Lane books that I have read, but it won't be the last.