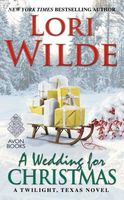 Series:
Twilight Texas
(Book 10)
The whole town is ready for the holidays:
The Cookie Club is baking,
Main Street glitters with lights, the carolers sing . . .
There's even a Christmas wedding.
When bodyguard Ryder Southerland sees his best friend's sister Katie at an L.A. Christmas party, he mistakes the slinky blonde for a celebrity stalker and tackles her. Then they tackle each other . . . at his place. The next morning, Katie's gone, and Ryder tells himself it's for the best. It isn't. Now, one Christmas later, Ryder's falling for the woman he's been missing in the town he hasn't missed at all...
Katie Cheek's outgrown the romantic fantasies she had about Ryder when she was fifteen. Katie's packed their hot night away in a box labeled "fling" -- or tried to. But Twilight's bad boy is the best man in her brother's wedding. And up-close and personal, Ryder's impossible to ignore. So Katie can either go into hiding -- or surrender to Christmas magic.
Fantastic story. At the beginning of the book, Katie is in LA, having swapped houses for the holidays with Gabi (
I'll Be Home forChristmas
). While there, she uses Gabi's invitation to a Hollywood party, pushing the envelope of her comfort zone. While there, she is mistaken for a stalker by a bodyguard, who just happens to be her brother's best friend (and her old crush) Ryder. Sparks fly, and after a hot night together, Katie is gone.
Ryder was stunned to see Katie, especially looking as beautiful as he always thought she would be. He'd always had feelings for her, but a) she was just a kid and b) she was his best friend's little sister. When hauls off and kisses him while he's living with them, he knows that discretion is the better part of valor. He leaves the next day to join the army and hasn't been back to Twilight since. After the army he became a bodyguard, and avoids all kinds of commitments.
A year later, Katie has made some major changes in her life. She has a business as an organizer, sold her yurt and bought a house. She has also not forgotten her night with Ryder, but never expected to see him again. Until she finds out he's best man to her maid of honor at her brother's wedding. She's just hoping to maintain her cool through the lead up to the wedding.
Ryder has come back to Twilight to be best man at Joe's wedding. He also needs to check on his estranged father. He is also hoping to see Katie again. He hasn't forgotten their night together, and has found himself wondering what might have been if she had stuck around. He was stunned to find her at his father's house, and even more to find out why.
I loved both Ryder and Katie. Ryder had had a troubled youth. After losing his mother in an accident he blamed himself for, he became the town troublemaker. After a blowup with his father, who kicked him out, he stayed with Katie's family for his senior year in high school. His relationship with the town had never been good, and coming back brings up all kinds of unhappy memories. The one bright spot is his relationship with the Cheek family. He's torn about seeing Katie, because he wants to see if they can pick up again, but he's afraid that she'll reject him. He's much more vulnerable emotionally than he lets on, but we get glimpses of it in his encounters with her.
Katie's night with Ryder had been the motivation she needed to get out of the rut she had been in. One thing that she realized was that her girlhood feelings for him had never gone away, and that night with him had brought home the fact that she was in love with him. But he's a lone wolf who will never want to live in their small town again, so she has tried to put those feelings away. When he comes back to town, she wants to be with him again, but she's also afraid to risk her heart by believing that anything can come of it. I loved the way that, in spite of her fears, she does everything she can to help him during his stay.
I loved the development of their relationship. The sparks were still as hot as they'd been the previous Christmas, but their time together gave them a chance to connect on a deeper level. What I loved most was how real the relationship was. It was fun to see them circle around each other, wanting more than they think the other one wants. The flames keep burning higher and higher until they can't resist, and then they are determined to try to hide it from the rest of the town. Of course, it's Twilight, and it's perfectly plain to everyone else how they feel. I also loved seeing how protective they were of each other. Katie hates seeing the pain that Ryder is in as he tries to deal with his father and their longstanding estrangement. It was sweet to see her try to be the mediator that gets them talking to each other. I also loved seeing how Ryder tries to protect Katie from any repercussions of being with him, by agreeing to hide their relationship, even though it isn't what he wants (and he misunderstands her reasons). The truly heartbreaking part is when something happens that should draw them together and instead adds more stress. I ached for Katie as all she wanted was for Ryder to actually tell her how he feels. She's pretty sure she knows, but she needs to hear the words. And poor Ryder knows what she wants, but the words just won't come. I ached for him as he ran away, and wanted to smack him for his stubbornness. I loved his big moment at the end, when he turned out to be far more eloquent than he knew he could be.
The secondary characters were also fantastic. Though we only saw her a couple times, one of my favorites was Ryder's LA neighbor Clara. She is quite a character, and has gotten to know him very well. I loved seeing her read him the riot act over his relationship with Katie. I also loved seeing Joe and Cami again. It was especially fun to see the girls' night that she had with Katie, when she got Katie drunk. I also loved how they teased Ryder and Katie about their inability to hide their relationship. I also loved Ryder's dad, Jax, even though his initial treatment of Ryder was so terrible. Seeing the two of them finally talk about the things that had happened really gave a sweet resolution to their relationship. I can't wait for my next trip to Twilight.