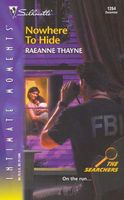 Series:
The Searchers
(Book 1)
As an on-the-run single mother out to protect her little girls, Lisa Connors needed two things: money, and to keep her identity secret. But it was just her luck that the possibility of the former would threaten the latter -- for as the caretaker of the hunk-next-door with two broken legs, her ability to keep her distance was already shaky. When she found out said hunk's profession -- FBI agent -- it was downright demolished....
Gage McKinnon had spent most of his life trying to keep away from all things familial, so the last thing he needed was to have two adorable little girls take root next door. But it was their mother who posed his greatest threat. For in Lisa he felt that door in his heart -- the one that had been slammed shut twenty-five years ago -- start to open, just a crack.
Very emotional book, more than just a love story between two people. Lisa is at her wit's end when she ends up in Park City. Her husband had died two years earlier and his parents are involved in a custody battle with her. Terrified of losing her girls to the people her husband couldn't wait to get away from, she took them and ran. Aggravating the issue is her battle with diabetes. When her car breaks down, she finds a job cleaning houses, where she can remain under the radar. Then she discovers she is living next door to an FBI agent, which ramps up her stress.
Gage is an FBI agent working with the Crimes Against Children unit, which is pretty much his life. He lost his sister to a kidnapper many years ago, and the effects it had on his family has turned him into a hard and driven man. He is also eaten up by guilt, feeling he should have been able to stop it. Having two little girls right next door just increases the feelings.
I loved the development of the romance. It had a slow start, due to a rather contentious first meeting. But even that aggravation didn't stop both from feeling a spark of attraction. When Gage was injured on the job, his friend and landlady, knowing she had nursing experience, hired Lisa to take care of him. Gage is a stubborn man and the clashes between him and Lisa were fun to see, especially when he ended up agreeing with her. I ached for Gage, whose boatload of guilt had him trying to push both Lisa and her girls away. I loved the scene in the kitchen when little Gaby bulldozed him into doing what she wanted. I loved how seeing Gage with the girls also started to heal Lisa's heart from the loss of her husband. The attraction between Gage and Lisa kept pulling them together, no matter how hard they tried to fight it. But Lisa still fears discovery, and what would happen if Gage knew the truth. I cried for her when those fears sent her running again. The ending was fantastic, with a resolution that came about differently than I expected. I loved seeing the changes in Gage's outlook and how he and Lisa came together.
Also part of the book was how the kidnapping of his sister affected Gage and his entire family. His deep seated guilt had caused him to distance himself from his brother Wyatt and his mother. I loved the scene in which Wyatt showed up and read Gage the riot act for not telling his family about his injury. I also loved seeing Gage and his mother reconnect and clear the air between them. The part where they talk about the kidnapping was heartwrenching and had me in tears. I have also discovered that both Wyatt and the missing sister have their own stories and I can't wait to read them.