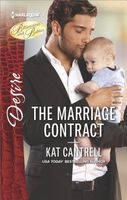 Series:
Billionaires and Babies
(Book 81)
A Billionaire's Baby Plan
Desmond Pierce wants a child -- but the conventional route won't do for the reclusive inventor. Enter McKenna Moore, a medical student willing to be a surrogate mom…and to marry by proxy without ever meeting her husband. But when the baby's health requires McKenna to not only face Desmond but also live with him, their chemistry explodes. Soon McKenna is in his bed, where he wants her to stay. But saying yes to making their marriage real puts McKenna's dreams at risk -- and forces Desmond to reevaluate everything he's ever wanted…
Good story with a complicated and unconventional relationship between Desmond and McKenna. Desmond desperately wants a child. His one attempt at a relationship didn't go well, so he opts for hiring a surrogate mother. He wants no issues with legalities, so he insists on a proxy marriage first. McKenna is a medical student who is willing to meet his demands for the chance to have her education paid for.
The book opens immediately after the baby's birth. Desmond is ecstatic and instantly besotted with little Conner. But his joy turns to dismay when the baby turns out to be allergic to formula. The only solution is to ask McKenna to nurse him for a few months until an alternative can be found. McKenna is initially horrified by the idea. She has put her schooling on hold for a year already, this would only delay it further. Plus, she had worked hard to avoid forming an attachment to the baby, knowing she would have no contact, and she has no confidence that she could continue to do so. But for the baby's sake, she agrees to move in with Desmond for the allotted time.
I really liked Desmond. He is scary smart, but also without much of a filter on his mouth. He says what he thinks which can be uncomfortable for those around him. As a result, he has trouble connecting with people. The one thing he wants is a family of his own, and he sees the baby as the way to get that. Though he is determined to remain in control at all times, McKenna's arrival makes that impossible when he realizes that he is intensely attracted to her.
I had a little more trouble warming up to McKenna. Her childhood in a commune, with parents who only believed in natural remedies, not medical science, frustrated her. Watching her grandfather die of cancer cemented her desire to become a doctor, and she was intensely focused on that goal. She sees having a family of her own as incompatible with her desire to be a doctor and is adamant that she will never have children of her own. Giving birth to Conner is a way for her to know what pregnancy and childbirth are like so that she can relate to her patients. She is utterly convinced that she cannot be both a mother and a doctor.

I enjoyed the development of their relationship. It starts with them inhabiting the same house, but rarely seeing each other. Desmond tries to ignore the attraction he feels for McKenna, but it is a losing battle, especially when caring for Conner brings him into her presence more often. He is awkward in his attempts to talk to her at first, though McKenna is able to see past it and understand what he wants. She appreciates his honesty in the things he tells her, which adds to the attraction she feels for him. I loved seeing her pull Desmond out of his way of hiding when he is uncomfortable and staying to talk things out. There are some pretty amusing scenes where something that McKenna says will strike him as being completely different than he expected, and we see his mental gyrations as he readjusts his thinking. Desmond is amazingly thoughtful for someone who claims to be so bad at relationships. His efforts at giving her the means to continue her studies while taking care of Conner were so sweet. At the same time, spending so much time with Conner and Desmond has McKenna wishing that there was a way to be both a doctor and a mother. She realizes that she is falling for him which is tearing her up. The passion that erupts between them adds more complications. Desmond starts thinking about making their marriage permanent, but when he says something to her she freaks out at the idea, pushing him away. I ached for Desmond as she insists on adhering to their contract, and leaves them both behind to follow her plan. It was so satisfying to see her encounter with another student who was balancing it all and the lightbulb that finally went off in her head. Her big moment with Desmond, as they both open up about their feelings, was awesome. I loved seeing both of them discover that, with a bit of compromise and sharing of control, they were able to have it all. The epilogue was terrific.