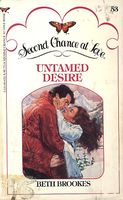 Series:
Second Chance at Love
(Book 53)
Beautiful, tempestuous and newly-divorced, Storm Reynolds is determined to succeed as a bush pilot in Alaska. The sportsmen she flies into the wild are a lusty lot, but she can handle any situation. . . and any man -- except Jim Talbot, her lean, brooding boss. Jim wants her fired! But why?
On a night of tender sorrow, the desire they have refused to admit bursts into soaring passion. But in the frozen wilderness they face a final, brutal test that threatens their love. . . and their lives!
Another golden oldie. Storm has come from Seattle to Alaska to take up the job of bush pilot and start a new life after her divorce. She doesn't expect to have to deal with a fellow pilot and boss who wants her gone, just because she's a woman.
The book opens with the confrontation between Jim and Storm, who was hired by the other partner in the company. Jim insists that she is not hired, and Storm is equally insistent that she is. She stands right up to his prejudices and refuses to back down in the face of his insults. Underneath the professional battle, there are also some serious personal sparks flying. Storm is especially unhappy about it because Jim reminds her all too much of her ex-husband. Storm gets to prove her mettle right away, as an emergency call comes in an she's the only other pilot available to serve as copilot. It's a somewhat confusing flight for Storm, as she sees multiple sides of Jim, from pilot to caring paramedic to charming man.
I really liked Storm. She is a woman in a man's world of bush pilots, determined to be the best she can be. She doesn't whine about Jim's treatment of her, she just hunkers down and does the job. She also doesn't hesitate to tell him what she thinks. Her biggest problem as she sees it, is that she is also attracted to him, which also makes her mad. There were times when she frustrated me though, because I thought she could also be overly sensitive to any comment he made, even if he wasn't being snide.
Jim's attitude at the beginning made me mad. He seemed like just another male chauvinist who didn't want a woman horning in on his career. His obvious attraction to her made it look like he thought women were only good for one thing. But there were other times when his actions showed him to be very fair minded, and also protective. It isn't until Storm overhears an argument between Jim and Dan that we discover why he doesn't want a woman as a bush pilot, and that makes his actions more understandable.
I really liked seeing the development of their relationship. Their attraction was incredible, but their personal issues made it hard for them to be together. They would go from sniping at each other to passionate kisses in a heartbeat. The only place they didn't have trouble was when they were actually flying together. Then a medical emergency flight ended badly and they turned to each other for comfort. Unfortunately, Storm has problems believing in her worth as a woman, thanks to her ex-husband's treatment of her, and she fears that Jim is only using her, causing her to pull away from the closeness they were beginning to feel. I liked seeing Jim finally take matters into his own hands by going with her on a flight so they could talk. Then an inflight emergency combined with bad weather brings back his own fears about women pilots. Storm and Jim have to work together to survive. I loved seeing them finally overcome all their issues by being honest with each other. There was a nice little twist that came out while they were stranded that cemented their relationship. There were a couple really sweet scenes in the hospital as they were recovering.
There was also a bit of suspense going on. There is one pilot who seriously gives Storm the creeps and is later found to be drinking on the job and fired. He doesn't take it well. When a couple of planes, including one that Storm is flying, have mechanical issues, it's pretty obvious to the reader that they are not accidents. Will they be able to stop him before he causes a tragedy?