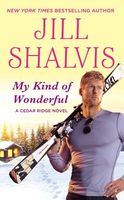 Series:
Cedar Ridge
(Book 2)
UNEXPECTED AND UNDENIABLE . . .
Bailey Moore has an agenda: skiing in the Rockies, exploring castles in Europe, ballroom dancing in Argentina. Now that she has a second lease on life, she's determined not to miss a thing. What she doesn't realize is that item #1 comes with a six-foot-one ski god hot enough to melt a polar ice cap. She doesn't want to miss out on him either, but Hudson Kincaid isn't the type of guy to love and let go. And as gorgeous as Cedar Ridge is, she's not planning to stick around.
As head of ski patrol at his family's resort, Hud thinks he's seen it all. But never has he run into someone like Bailey. She might look delicate, but her attitude is all firecracker. And her infectious joy touches something deep within him that he's been missing far too long. Now he'll just have to convince Bailey to take a chance on her biggest adventure yet . . . something rare and all kinds of wonderful.
Fantastic book, with plenty of love and laughter. Hudson is one of five siblings/half-siblings, four of whom work together to run the family ski resort. Hud is head of the ski patrol, also works a few shifts a month as a town cop, and takes care of his mother, who suffers from dementia. His plate is full to overflowing, leaving him little time or inclination for a relationship.
Bailey is a young woman with a desire to finally start living. She has been battling cancer for the last ten years, and is finally cancer free. She's ready to start doing all those things she could only dream about before. One of those things is to stretch her painting wings and paint a mural. Lucky for her, Hud's mother hires her to do just that. Since the mural is at a ski resort, she'll also take the chance to improve her skiing.
Bailey and Hud meet when she misreads the map and ends up at the top of the resort's most challenging ski run. Not being stupid, she doesn't try to go down that way, but a broken binding leaves her unable to leave. Hud gets a call about a stranded skier, and comes to the rescue. I loved their first meeting, as Hudson is blown away by her beauty and the sheer joy he sees on her face as she takes in the view. Bailey is pretty taken herself by the "mountain hottie", but she has no time or inclination for a relationship. Their second meeting is a bit more contentious as he shoots down his mother's job offer. I loved seeing his siblings get involved, and suddenly Bailey's going to be there on the weekends for the next couple months.
There is no denying the attraction between them, and pretty soon they are indulging in a fling with an expiration date. That suits them both fine at the beginning, but it isn't long before feelings move well past the fling stage - even though both try to resist it. Hudson is protective of Bailey without being smothering. He is caring, sometimes sweet and always sexy, and has a terrific sense of fun. I loved seeing that fun extend to Bailey. But he can also be brooding, grumpy and stubborn. He takes a lot on himself, including responsibility for things that he isn't really to blame for. These guilty feelings hold him back from fully giving himself over to what is happening between him and Bailey. Bailey is quite the firecracker. She's stubborn and tenacious, which helped her get through her illness. It also helps her get through her occasional moments of insecurity.
I loved the development of their relationship. Bailey has spent so long not letting anyone get truly close that her feelings for Hud really snuck up on her. I loved how she saw the man underneath, who stayed busy as a way to avoid thinking about the things that haunted him. I ached for her when she thought her feelings were not returned. I loved seeing Bailey knock down the walls around his heart "one smile at a time". It was fun to see the effects she had on him, and how everyone could see it except him. I wanted to shake him when he made that stupid comment at the end, and pushed her away. The ending was great, with both of them seeing their mistakes, and Hudson doing an amazing job of both groveling and expressing his feelings. The epilogue was sweet and showed just how far they both have come.

As always, the secondary characters in a Shalvis book are a huge part of the story. Hudson's family is great. The back story of how they all came together was moving. I loved their interactions as they alternately squabble and support each other. I really enjoyed the teasing as they poked each other over their various relationships. I also loved the support as Gray and Aidan helped Hudson see the truth of his feelings for Bailey and get past his feelings of guilt over other things. I also loved the continuation of the practical joke that made its appearance in the first book, and just when it happened in this one. I loved Hudson's mother. She's an incredibly sweet woman with a surprisingly strong will. I ached for Hudson during the times when her memory slipped back in time, but thoroughly loved the tidbits she dropped about his childhood. When she was in the present she was very observant and willing to speak her mind.