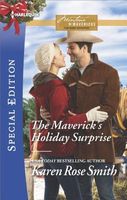 Series:
Montana Mavericks: Baby Bonanza
(Book 5)
Rust Creek Ramblings
A WEDDING IN THE WORKS?
We here at the Gazette are amazed to report that trust-fund cowboy Hudson Jones may soon be off the market. The boyish billionaire has been spending more time than ever with Bella Stockton, who manages his day-care center. It seems impossible that quiet, reserved Bella would have captured the fancy of such an alluring specimen of manhood.
Bella finds it hard to believe herself, and she keeps pushing Hudson away. What are the odds the footloose cowboy will stick around once he finds out she can't have kids? Don't tell Bella, but our sources report Hudson has his heart set on a Christmas proposal. When he finds out the truth, will it still be a holiday to remember?
Good book. We first met Hudson and Bella in
Maverick vs.Maverick,
when Hudson came to help out his brother Walker, because the day care center was in trouble. Hudson has the reputation of being a love them and leave them man, one who never stays long in any one place. Bella is the director of the center. She returned to Rust Creek Falls to help her brother when his wife died, leaving him alone with their triplets.
I loved the relationship between Hudson and Bella. It started as a good working relationship that became friendship, then evolved into more. There was also an immediate attraction between them, but Bella was determined to resist it. First she felt that someone like him wouldn't be interested in her. Second, she knew he wasn't the committing type. Third, even if he was, she was sure he wouldn't want someone who couldn't have kids. I ached for her in those moments when the loss would hit her and she could see a lonely future ahead of her. I loved how she tried to stay mostly upbeat, and how working at the center was a big part of that. I liked how Hudson also tried to resist the attraction because he knew that Bella was the kind of woman who deserved commitment and he wasn't interested in it.
The development of their relationship was sweet. In spite of Hudson's reputation, he went all protective on her. He began by encouraging her to take time for herself. I loved seeing him send her to his house for an afternoon of rest, and making sure she was fed. I also loved how he encouraged her photography efforts. It was fun to see his feelings grow and his confusion as he realized that he was changing in unexpected ways. Bella went from resisting to accepting the chemistry between them, even though she was sure her heart would get broken. I liked how she saw that there was more to him than he showed to the rest of the world, even though he didn't always see it himself. It was great to see him realize his feelings and immediately want to do something about them. The ending was quite emotional as the truth comes out and both of them have to make decisions about their future together.
I also enjoyed seeing more of Bella's brother and the babies. I ached for his loss and his desire to do the best he can for his children. I loved seeing the people of the town come together to help him. He has a little trouble with his pride getting in the way, which made for some awkward moments between him and Hudson. That awkwardness didn't stop him from trying to help Hudson in the end. I'm looking forward to reading his story.